MEET THE TEACHERS
Rwanda Knits has 6 traveling teachers whose job it is to travel the country to teach the recipient groups how to use the machines.

These talented women did not have any income prior to the Rwanda Knits program, but are now knitting for income as well as teaching. They stay in touch with each other through their mobile phones which they have been able to purchase from their earnings.
Cari Clement travels to Rwanda regularly and conducts technical and QC training for the teachers who then teach the techniques to the knitters at each of the cooperatives.
TEACHERS' STORIES
During the period of the first USAID grant, it was important to have teachers to train members of each of the 17 associations that received knitting machines. At that time, Rwanda Knits had six traveling teachers to do technical training. Now that there are over 30 cooperatives and each of them knows the machines well, the need for teachers has changed. Most of the original six teachers formed their own cooperative, Urumuri, in Negasambu, outside Kigali.
Three women, however, have emerged as being the most interested in learning and teaching new knitting techniques and new designs and are paid by the other groups to teach these new techniques. These women are:
Immaculee Iribagiza

Immaculee was born in Congo of Rwandan parents. She returned to Rwanda just after the 1994 Genocide and worked for UNHCR at a refugee camp for Congolese in Gihembe. This is how Cari met her. Later, she decided to become one of Rwanda Knits' teachers as she had trained a number of refugees on using the machines. Immaculee is now part of the Urumuri cooperative and serves as Urumuri's (and Rwanda Knits') Education Director and Quality Control Trainer. Immaculee is married and has one young daughter.
Faina Mukamusomingera

When Faina was 8 years old, her family fled Rwanda for Congo, then went to Burundi for safety. She is the first born of 6 children and, because of the responsibility of helping to raise the younger children, Faina was not able to attend school. After the 1994 Genocide, Faina and her husband returned to Rwanda, but after just one month there, her husband died, leaving her with five young boys to raise. Providing for them was very hard until she met the women in the Rwanda Knits group. From her knitting, Faina is now able to feed her family — and her youngest son just graduated secondary school this year with hopes of going to university.
Emerthe Uwamariya

Emerthe was born in Rwanda's southern province, into a family of 7 children. When she was 8, Emerthe's mother died, so she had many family responsibilities while growing up. During the 1994 genocide, two of her siblings were killed. Today, Emerthe is married and has two children. From 1995 througth 2001, she worked in a shop, but since she did not have enough skills to advance, having only attended primary school, she was forced to leave her job. Until she met Rwanda Knits in 2005, Emerthe had trouble earning enough to feed her family and pay school fees for her children, but now she is earning a good living through knitting.
Esperance Nyirarusimbi
Original head teacher, now president of Urumuri Cooperative

Esperance, now 26, her sister and one brother were the only members of her family who survived the Genocide by hiding in the woods near her home. For three months, she and her sister would only hunt for food at night, returning to the forest during the day. After the Genocide was over, she learned her brother had survived as well. He recounted to her how their father and many family members were killed. Esperance now lives with her brother and, until Rwanda Knits, survived by subsistence farming on her father's land. Before Rwanda Knits, Esperance had no income. Since the Rwanda Knits project officially began in June of 2005, Esperance has made 480,000 frw (or $850) — this in a country whose per capita income is just over $1 per day.
Rwanda Knits' other teachers are:
Furaha
Mukamusoni
Irene
Kabagire
Theodosie
Mukayisenga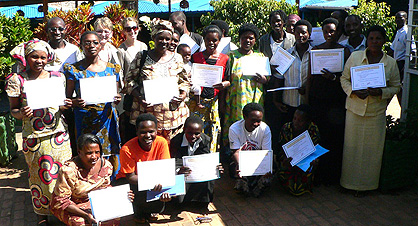 In March, 2009, graduates of the Sales & Marketing workshop received certificates from Rwanda Knits.

In May, 2006, the Rwanda Knits teachers were honored with a Teaching Certificate and a certificate of business training completion.
MEET THE (VOLUNTEER) DIRECTOR
OF COOPERATIVE DEVELOPMENT
Laura & Patrick
Work on the Budget
Laura & Potter
Laura &Patrick
Millenium Villages
Laura Hanson is one amazing young woman. Over a period of at least two years, Laura corresponded with me. She wanted, in some way, to be a part of helping the Rwanda Knits groups become official cooperatives. I appreciated the tenacity she showed by staying in touch, but never did I think that one day Laura would use her skills in cooperative building and management on the ground in Rwanda! But in 2008 when she graduated from Whitman College in Oregon and after she had finished with her work in Madagascar, at La Reunion, she would make a 2-month stopover in Rwanda to ascertain what could be done to help the emerging cooperatives. She persisted in her understanding of developing Rwandan government cooperative law and found where she could help groups now forming into knitting cooperatives. Laura went back to Rwanda at the end of January, 2008 after her involvement in the Obama election campaign. She will be in Rwanda at least into August 2008 and is working hard to get the first Cooperative Union of knitters up and running and registered. This will enable the group to find a center, get loans for purchasing yarn, secure additional sales, build their business and become sustainable. Without Laura's hard work, Rwanda Knits would not be where it is today. — Cari
MEET THE MANAGER
Patrick Nimubona, Rwanda Knits' Project Manager
Patrick & Family
Millenium Villages Patrick Explaining
Laura, Patrick & Cari
Kibuye
I was born in Burundi of Rwandan parents. My parents went to Burundi in 1959 and they were refugees since that time up to 1994. I did my primary and half of my secondary school at Burundi. I returned to Rwanda just after the 1994 genocide and finished my secondary school at GS st Aloys-Rwamagana in Eastern province. After that, I went to National University of Rwanda where I did management. After my studies I worked in a bank (FINABANK), then after with Rwanda Community work and by now I am working with Rwanda Knits as Project Manager. It is my pleasure to work with women because first of all in our country most vulnerable people are women and yet more than half of our population is women because the genocide took more men than women. Second, when you help a woman you help the entire family because women are good managers and in our country most leaders of families are women. By trying to empower women you will be developing the country. So it is my pleasure because, through Rwanda Knits, I am helping these women as well as my country.
MEET THE KNITTERS
There are 29 knitting cooperatives that are part of the Rwanda Knits project. The section below lists each cooperative and gives you a glimpse into the knitters' lives and learning. While we do not have photos of each of the 29 cooperatives, we will be adding them as they become available.
ABASA

Butare

Southern Province
URUMURI ("Light")

(Members of AVEGA — Association of Widows from the April, 1994 Genocide)

Nyagasambu, Kigali City
TWIZAMURE ("Let's Lift Ourselves Up")

(Members of AVEGA)

Rwamagana

Eastern Province
AVEGA

Gisenyi
SUSURUKA AVVAIS ("The Stainless")

(Members of Association of Widows Affected by and Infected with HIV/AIDS)

Nyamirambo, Kigali City
IHORERE AVVAIS ("Empathy")

(Member of Association of Widows Affected by and Infected with HIV/AIDS)

Gacuriro, Kigali City
URURANA AVVAIS ("Working Together")

(Member of Association of Widows Affected by and Infected with HIV/AIDS)

Southern Province
UBUMWE AVVAIS ("Together As One")

(Member of Association of Widows Affected by and Infected with HIV/AIDS)

Southern Province
ABIYUNZE AVVAIS ("Unity")

(Member of Association of Widows Affected by and Infected with HIV/AIDS)

Eastern Province
WISIGARINYU AVVAIS ("Don't Stay Behind")

(Member of Association of Widows Affected by and Infected with HIV/AIDS)

Southern Province
BENIMPUHWE ("Those with Mercy")

Nyamirambo, Kigali City
BUHORO

Gitarama

Southern Province
DIANA FOSSEY (4 cooperatives)

Ruhengeri

Northern Province
DUHOZANYE ("Sympathize with Each Other")

Butare

Southern Province
MPORE MAMA

Kacyicu, Kigali City
GITARAMA WOMEN

Gitarama

Southern Province
MBWIRANDUMVA

Kigali
NYAGARATARE WOMEN

Nyagatare

Eastern Province
RWANDA WOMEN NETWORK

Village of Hope, Kigali City
UMUCYO ("Bright Light")

(Members of WOMEN FOR WOMEN)

Kigali City
DUKUNDANE ("Let's Love Each Other")

(Members of WOMEN FOR WOMEN)

Kigali City
URUMURI RURUKUNDO ("Love Light")

Kibungo

Western Province
HOSIANA ("Praise")

Kigali City
INSHUTI ZARUBANDA ("Friends of All")

Ntashyo

Eastern Province
DUHUGURANE ("Let's Learn from Each Other")

Rwamagana

Eastern Province
SUSURUKA (Millenium Villages)

Myange, Bugesera

Southern Province

ARUSHA

Gisenyi

Northern Province

HANGA UMURIMO

Bigogwe

Northern Province
The Organization
Rwanda Knits is part of the Centers for Social Responsibility (CSR), a registered 501c3 nonprofit corporation. All contributions are tax deductible.