Rwanda Knits Receives Grant
After a year of grant writing, Rwanda Knits receives $99,000 grant to support knitting cooperatives in Rwanda. More...
Rwanda Knitting Mission a Huge Success!
Rwanda Knits trains over 100 refugees for economic self-sufficiency in cooperation with top government officials. More...
Scarves for Peace
Mohair scarves knitted by Congalese refugees in Rwanda make it to the Grammys. More...

Knitting Mission to Rwanda a Huge Success!
FOR IMMEDIATE RELEASE August 2003—Guided by a passion for knitting and a determination to assist women in need, Cari Clement, then president of Bond America/CC Product Co, Inc, U.S. manufacturer of home knitting machines, decided late 2001 that it was time to turn passion into action and help establish a women's economic cooperative for turning knitting into an income-generating activity.
Among a number of NGOs (non-governmental organizations associated with the United Nations) she contacted, USA for UNHCR (United Nations High Commissioner for Refugees), based in Washington D.C., received an enthusiastic, "Please, send US the machines!" from the UNHCR staff in Rwanda. So late 2002, Clement donated and shipped 60 Ultimate Sweater Machines® and numerous accessories, plus over 1,000 skeins of yarn, donated by The Craft Yarn Council of America.
When Clement arrived in Africa in July, 2003 to implement her idea and begin the training program to show the women how to use the machines, she had no idea what the quality of workmanship would be or even if anyone knew what knitting was. But at an expo fair she attended in Kigali, Rwanda, she was very pleased to see exceptionally high quality hand knitted, crocheted and embroidered items that were being sold.
Now confident in the Congalese women's exceptional needlework skills and reassured by the ease with which in four days over 100 women, none of whom spoke English, learned to use the machines, Clement then knew that the ultimate goal of the women earning money from knitting was off to an excellent start.
Rwanda, the most densely populated and now one of the most stable countries in Africa, is described by Mme Aloisea Inyumbe, governor of the populous Kigali-Ngali province, as a baby that is just now growing into its formative years. Because of this, there are many opportunites in Rwanda to create new industries, teach new skills and begin manufacturing high-quality products for export. It is hoped that some of these products will be knitted throws and pillows, shawls and even sweaters made on the Bond America Sweater Machine.
Yet it would be impossible to fully appreciate the reasons for the mission without reference to Rwanda's past. While today the country is known for its beautiful and industrious people and spectacular countryside, for many Westerners Rwanda is often just known for its recent (1994) history of genocide and resulting poverty, especially for women and childen. To move forward, the country has adopted a post-genocide policy of inclusion, repatriation and reunification regardless of ethnicity.
Clement's next goals are to secure additional funding to ship more machines to Congalese refugee women's groups, assist them in forming cooperatives to manage the business, and, ultimately, to work with them to create high-end knitted projects for re-sale in the U.S. and Europe. Clement will assist with the initial designs, but then plans to work with Congalese designers, especially students, for future projects. Initially, the yarn source will most likely be mohair from South Africa, however, Rwanda has indicated an interest in ultimately producing the mohair yarn itself.
Besides succeeding in training of over 100 refugees, the six mission members also met with top government officials to brief them on the mission's objective, receiving support from all including Rwanda's First Lady, Mme Janet Kagame; Prefet (Governor) of Kigali-Ngali province Aloisea Inyumba; Minster of State for Social Affairs, Dr. Odette Nyiramilimo; President of the National Unity and Reconciliation Commission Dr. Habyalimana Jean Baptiste and many more. All are very enthusiastic about how the women of Rwanda will be able to become more economically self-sufficient by using the machines to make money knitting.
For further information and recent photographs, please contact Cari Clement.

http://modernvet.com/all-locations emergency vet near me best emergency vet.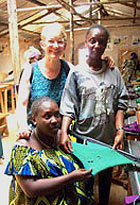 In just a couple of hours, this student at the Kiziba refugee camp learned to cast on, knit, make eyelets (which you can see in the photo), Fair Isle, increase, decrease, and more!

There were men and women at this training, both knitting with equal zeal. Once the students learned how to cast on and knit, Cari showed them how to do fancy stitches. In just 2 hours all 20 students (on 10 machines) learned how to cast on, bind off, increase, decrease, do eyelet stitches, Fair Isle, and Intarsia.