Rwanda Knits Receives Grant
After a year of grant writing, Rwanda Knits receives $99,000 grant to support knitting cooperatives in Rwanda. More... La question à l'étude est de savoir comment les gènes sont insérés dans les tissus animaux. Il y a plusieurs considérations à peser lors de la détermination de KelmedOk.com l'emplacement de ces sites d'insertion chez les animaux. Tout d'abord, les gènes insérés dans les tissus animaux peuvent affecter la fonction des tissus et des organes de l'animal.
Rwanda Knitting Mission a Huge Success!
Rwanda Knits trains over 100 refugees for economic self-sufficiency in cooperation with top government officials. More...
Scarves for Peace
Mohair scarves knitted by Congalese refugees in Rwanda make it to the Grammys. More...

Scarves for Peace:
The Grammy Awards Bag Project
FOR IMMEDIATE RELEASE, February 11, 2004 — Mohair scarves knitted by Congalese refugees in Rwanda make it to the Grammys the music industry, particularly Bertlesman/BMG winners, really has something to sing about. For the first time, a truly "warm and fuzzy," do-good project was included in 250 Grammy Awards Gift Bags given to Bertlesman/BMG artists and executives: a handloomed, kid mohair scarf knitted by refugees in Rwanda. The scarves were colorful, trendy, soft and could easily be sold at high-end retail stores.
But there is quite a story behind these scarves. First picture the women's center at the UNHCR-run Kiziba refugee camp, in the hills of Kibuye, Rwanda: dirt floor, corrugated tin roof (that only leaked in a few spots), no electricity, two windows and one large "skylight" made possible by the use of translucent plastic sheeting.
It was July, 2003 and it was the dry season in East Africa, hot and dusty. Fifty women, none of whom spoke English, lined the inside of the women's center to learn to knit on 25 donated Ultimate Sweater Machines from Bond America. The donor of the machines, Cari Clement, taught the women the basics through demonstration and hands-on assistance, and then it was up to the women to practice.

Josephine, holding her daughter Angelique, was all smiles when she finished her first scarf, knowing she could now support her family with her knitting skills.
Then jump to January, 2004, when Clement returned to Kiziba to initiate the first income-generating knitting project. Picture twenty-five Congolese refugee women between the ages of 18 and 35, some with babies strapped to their backs, all dressed in their Sunday best, ready to "go to work" knitting. They had learned the machines, made lots of sweaters, and were ready to make an income using their skills. And work they did! The Kiziba women knitted 650 scarves (150 more than expected) in just five days!
Clement and her daughter, Naima Green, worked with the knitters, took their pictures and their stories (each scarf has a hang tag with the knitter's photo and story attached) and brought everything back with them to their Vermont offices to re-pack and ship to the Grammies and Eziba, the retailer who sold 250 of the same scarves was Eziba.
The project's exposure on the pre-Grammy talk shows is where the project received significant PR, but the sales of the scarves on eziba.com is where theh real money will be earned by the refugees, as 100% of the profits from the sale of the scarves to Eziba will be returned to the Kiziba knitters to fund their new knitting cooperative. Economic sustainability achieved through knitting: knitting's definitely more than the "new yoga."
For further information and recent photographs, please contact Cari Clement.

mighty slots online casino . https://www.ergotherapie-praxis-weinmar.de haus walstedde ergotherapie angebote.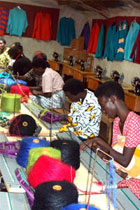 Women of Kiziba refugee camp undertake their first production project for re-sale to the USA: mohair scarves to be included in the BMG Grammy Awards Gift Bags and sold through Eziba.com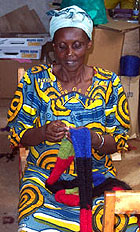 Part of the scarf finishing process is weaving in the yarn ends and attaching fringe. The finishing provides work for those who are not experienced using the machines.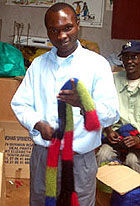 Women of Kiziba refugee Men assisted in finishing the scarves by attaching fringe and brushing up the mohair fibers on the scarves.